On the same day that that bloke who owns Littlewoods announces he's paying himself a massive dividend for being the boss, New Links can proudly announce it's first ever
money making scam
affiliate
deal payout! w00+! It's all due to those nice folks at
amazon.co.uk
, who we signed up with earlier in the year. Which leads me on to tonight's post, which takes the form one of bunger's Famous Book Reviews™
Yep, it's been a while, as Pearl Jam might say, but I'm back, with a selection of the best reads out and about at the minute.
Regular New Linkers will know that I've become a bit of a
Dan Brown
fan since reading
The Da Vinci Code
back in May
. We all know
mmChronic thinks of it
. I'm a fan, so the next book I read was
Digital Fortress
.
Digital Fortress
is the 1st book from Dan Brown. It's fun to read, and very engaging, and like every other Dan Brown book it's written in a way that is reminiscent of watching a film. It's just that this is a bit like a film that's not very good. Not bad, but not a classic. It's Keanu Reeves in Speed, as opposed to The Matrix. Or Bill and Ted.
So, it's a good book, but nowhere near as good as "The Code". Tell you what though.. I can think of worse ways to spend £5.59. Take our friends at Amazon for instance. They'll sell you a copy for that. Go on, buy it for your mum for Christmas.
Moving on from there I then dispatched
Angels and Demons
.
This is the prequel to
The Da Vinci Code
, and the first time we are introduced to Robert Langdon (he's in
The Da Vinci Code
too). Langdon gets drafted in by the boss of CERN to identify a mysterious symbol branded into the chest of a brutally murdered scientist. I think I'll give it five stars too.
And at only £5.59 from our friends at Amazon, it's great value too! Go on, buy it for your dad for Christmas.
Deception Point
This is a good one. This doesn't have old Bob Langdon is, but it's much more akin to TDVC and Angels and Demons. Meteorites, NASA, a conspiracy theory, presidential campaigns... it's all in there. Merg would like this one.
It's only £5.59 from our friends at Amazon, so it's great value too! Go on, buy it for your uncle for his Christmas.
The Shipping News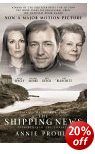 Here's an interesting one. This is the one that got made into a film that had Kevin Spacey in it. It's hard work for the first half of the book. You don't care about the characters, there's some pretty nasty writing about things you don't want to know, and it doesn't really get going until the second half of the book. I didn't get into it until page 150. It's a 350 page book, and that's as near as dammit halfway through as far as I'm concerned. When you've been reading the entire Dan Brown back catalog (where you're hooked from the end of the first chapter) it's a bit of a system shock. I'm going to give this three Dibnah's. Like this...
Fred says it's amazing value too, at only £5.59 from Amazon! Go on! Buy it for your auntie for Christmas. You know Fred makes sense.
American Gods
Wandering round the Metro Centre at lunchtime, mmChronic and I went into Waterstons so that mmC could spend his birthday book tokens. He ended up getting two books, neither of which were in their great value 3 for 2 offer... but anyway, mmC bought American Gods by Neil Gaiman. I've read this, it's the story of a man who gets out of prison and ends up taking a job as a bodyguard for a guy he meets on the plane. I won't go into any more detail cause I might spoil it. Bungers rating : I think I'll give this four borats. Like this:
I'd normally mention something here about how great local bookshops are, so I will. I had the misfortune of buying a book from WHSmith the other day, and it's no wonder they've lost millions lately. Local bookshop : Ask for book, get shown where book is, and have a bit of chat with someone who is passionate about reading. WHSmith : Ask for book, get blank look. Go to Dillons/Waterstons. Purchase book. See? It's not all
amazon
,
amazon
,
amazon
on here! We're equally receptive to big bags of cash from any other retailers too you know. Did I mention you can now book
lastminute.com
with New Links too...? Back to the books...
Stardust
In case you've never read any of Neil Gaimen's books, American Gods is more madness from the writer who gave us
Stardust
. Stardust is a proper star number too. I suppose you could describe it as a fairy tale for adults. Bungers rating? This is a big five too.
And, you're not going to believe this, but Stardust is
also
only £5.59 from our friends at Amazon! It's great value! Go on, buy it for your sister for Christmas.
Oh, and while we are on the subject of books and authors there's this site lets you type in the name of an author you like, and it'll send you an e-mail whenever one of his or her books is published. At least that's what I think it does. I heard that somewhere... Someone stick the link in the comments for me will ya? :)
Finally, a wee bit of video game related news, as a warning to all those who have been following the 'Halo 2 available in France' story this week.


(...or another blatent excuse to use more icons)
Microsoft vows to keelhaul Halo 2 pirates
.
Yay! to
vnunet.com
for using 'keelhaul' in a news article!
Listen kids, buy Halo 2 from
amazon.co.uk
. You
know
it makes sense. ;)