It's time for
newlinks
Technology Thursday™!!
Get your
Nintendo DS
cheap!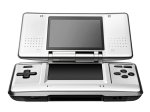 RRP:
£99.99
Our Price: £94.99You Save:
£5.00 (5%)
It'll be out on March 11 and we've got a special newlinks offer of only £94.99 including the Metroid Prime: Hunters Demo.
Pre order it now
from us and Amazon will dispatch it to you when they get them in. You knows it makes sense!

With Valentines day coming up you can
swear your allegiance to the mighty Bill
by purchasing a
Creative Zen Micro 5GB - Pink
and
win sex points with your missus for
steak and bj day
.
You can still buy an ipod
here
, but..
..if you're a bit of a cheapskate and want something for your valentine, buy her a shuffle. We've still got them too in either
512MB
flavour for £69.00 or the
1GB version
for only £99.00.
Or you could always express your love by making her a
minty
. :)
Oh, if you're not celebrating this year, then maybe you should send them something from
here
. Bwahaha!