"Women will get sterile just looking at you."
Pictures from a Star Wars convention.
via
Guess The Movie
. 72 movie frames with the bodies removed by computer (leaving only their clothing).
via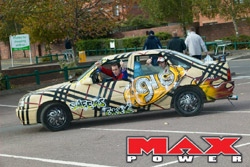 GLC's 'Chavalier' is for sale on eBay. via
Drew's Script-O-Rama
. A massive pile of movie and TV screenplays.
via
Funny picture.
This Dog is butt ugly
.
via